Westmeston is located in the South Downs National Park and with the northern half of the parish outside the park under Lewes District Council. The parish (population circa 300) covers 3.27 square miles in a long narrow strip with chalk downland in the south and then through wooded and arable wealden land to the north. This historical arrangement is typical of neighbouring parishes, and provides each with areas for grazing, forestry and raising of crops. The main settlements are positioned around churches. St. Martin's Church is the centre of the conservation area at Church Corner.
From highest areas of about 800ft above sea level near Ditchling Beacon, the land drops steeply to about 325ft and then undulates further north to an average of about 220ft.
The parish is near to the western boundary of East Sussex and borders Ditchling to the west, convenient for the health centre, post office, pubs, café, pharmacy and small shops. Further west in Hassocks can be found a more comprehensive selection of services including small local supermarkets. Westmeston has a farm shop in Middleton Common Lane, a golf club in Spatham Lane and a Parish Hall on Lewes Road which opened in 2000 and is available for hire.
The ancient and attractive county town of Lewes is 7 miles away and is the centre for local government.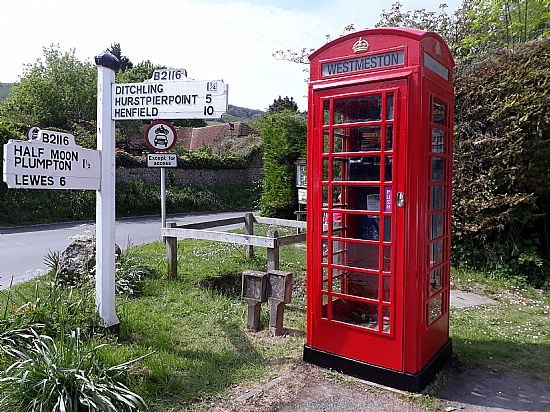 The area is well served by a network of bridleways, footpaths and permissive paths. Riding, cycling and walking are popular with locals and the increasing numbers of visitors to the area. The main vehicular route B2116 west/east gives access to the northern routes via Spatham Lane and Hundred Acre Lane. Railway access is at Hassocks to the west and Plumpton in the east.
There are many volunteer groups who share a strong interest in conservation such as The Westmeston Jubilee Pathway Trust, the Monday Group, Mid Sussex Bridleways Group and the Footpaths Preservation Society.
The Westmeston area is rural with agricultural activity, both arable and grazing. It is mainly residential and some of the land is used for equestrian interests (both commercial and private) and vineyards.