(Please pass to any older neighbours without internet access)
Farm Watch Officers. Please contact your local Farm Watch Liaison Officers for any general enquiries or questions.
PC Pete Hall peter.hall@sussex.pnn.police.uk
---

---
MAY 2017 OPERATION LIBERAL
During the week 08–12 May 2017, police forces, trading standards and partner agencies across the UK will be involved in a week of enforcement activity aimed at disrupting criminals who masquerade as legitimate traders in order to target vulnerable – largely elderly – residents in all communities. The event is co-ordinated by Operation Liberal, the Police national intelligence unit tackling Cross Border criminality and they are supported by National Police Chiefs Council.
Rogue traders are criminals who take advantage of householders by using high-pressure sales techniques. The work is often expensive, sub-standard and not required at all. Rogue trading is often linked to distraction burglary, which is carried out by an offender who gains access to a property by distracting or deceiving the householder in order to steal valuables or cash.
Operation Rogue Trader started in 2006 as a single day of action in the Midlands, involving police forces and trading standards teams. Since then it has expanded to involve almost every police force in England, Wales and Scotland, still working closely with Trading Standards but now involves other partner agencies. Over the course of the week, there will be a combination of crime prevention work and enforcement activity.
The aim of Operation Rogue Trader is to work collaboratively with partners to disrupt and enforce against rogue traders. This will be achieved by the following objectives:-
the delivery of a strong enforcement message to rogue trading criminals and to encourage the robust prosecution of offenders
to disrupt and enforce against rogue trading criminals
to develop good practice in dealing with rogue traders
to develop intelligence in respect of known suspects and to identify intelligence gaps for future development
to raise public awareness of doorstep crime and provide reassurance thereby reducing the fear of crime and increasing customer satisfaction
to promote partnership working highlighting the importance of continued disruption activity against rogue traders to raise awareness of doorstep crime and its impact on the victims amongst respective agencies to provide a national communications and media strategy
Sussex Police will be working with partner agencies – including Trading Standards, County Councils and Neighbourhood Watch- throughout this week of action. Rogue traders target the elderly and vulnerable in our communities, using intimidation tactics, deception and bare faced lies in order to con people out of money. Sussex Police has had significant success in targeting these fraudsters over the past 12 months but we need to be as relentless in our duty to stop them as they are in their desire to continue offending. The Rogue Trader campaign is designed to bring the spotlight on to this type of crime and to raise awareness of how everyone has a part to play in keeping the vulnerable in our communities safe.
Please help to support this campaign wherever possible. For social media users, the hashtag #roguetrader17 will highlight our activity.
Yours sincerely,
Rob Leet
Chief Inspector
Local Policing Lead
---
October 2016
Witness appeal following collision between a car and pedestrian in Newhaven
Can you help, were you anywhere near the scene just before 7.30am on Tuesday 4 October?
Possible bogus antiques dealer door knocking in Lewes
Police are warning the public in Lewes to be on their guard about allowing strangers into the home or entering into deals with cold callers. A report was received last week about a man calling at properties looking to buy jewellery, paintings or antiques. In this particular incident, the person he called on was elderly and suffered from Alzheimers and the motive behind this visit is, as yet, unclear. However it may have been to return at a later date to purchase valuables for less than their value, or with a view to burglary. In any event, please keep an eye on your vulnerable or elderly neighbours, friends and relatives in case they are targeted.
Dog attack on Chailey Common
Police are keen to speak to a man after his dog is alleged to have bitten a woman who tried to protect her own from being attacked by it.

At about 1.30pm on Sunday 2 October, a woman was walking her dog on Chailey Common when the other dog, described as a large, dark coloured English Bull Terrier type breed, came charging towards them and began attacking her dog. Whilst she was trying to fend the animal off it then turned on her, dragging her to the ground and causing wounds to her arm. The owner very casually came over, got hold of his dog and put it on a lead but he failed to offer any help but dismissed the incident whilst walking off.
He is described as being of Mediterranean appearance, aged around 50 years old and the driver of a silver 4 x 4. Police would like to hear from witnesses to the incident as other dog walkers were apparently in the area at the time.

If you can help with any information relating to this incident, please phone 101, or email 101@sussex.pnn.police.uk quoting reference 776 of 02/10
How secure is your home? Check whether you pass the burglary prevention test?

The nights are drawing in, Halloween and Bonfire are both just around the corner, and party season will soon be underway. Here are some tips for making sure your home is safe when you're out:
Keep all wallets, credit cards and car keys out of sight and out of reach
When you're out, even if just at the back, lock all the doors and windows
Consider installing an intruder alarm as an effective deterrent against burglars
Mark all your valuables with your postcode and house number or name
If something is unsuitable for marking, photograph it next to a ruler
Register your property at www.immobilise.com – it's free and aides recovery
Leave lights on, a hall light and another in a room that can't be viewed from outside
Instal security lighting outside, energy saving bulbs do not use much energy. They can be light sensitive or movement sensitive
Ensure that any gates at rear of the house are locked and secure.
Trim overgrown plants – don't give burglars a hiding place
Secure garden tools and ladders to prevent them from being used to break in to your home
---
Keep your money safe
Sussex Police fraud newsletter – April 2016
Each month, we see many incidents of scammers targeting Sussex residents in an attempt to defraud them. Operation Signature is our answer to preventing and supporting vulnerable victims of fraud or scams.
This newsletter covers information on the latest incidents across Sussex to help prevent others becoming a victim. It is also where we will share examples of good work in this area, such as the Eastbourne community project run with the Princes Trust aiming to stop scams.
By their very nature, scams are constantly evolving and taking on new forms. But be assured that, by following our tips at the bottom of this newsletter and encouraging family, friends and colleagues to do so too, you will reduce the risk of becoming a victim.
Detective Chief Inspector Tracy Edwards, Operation Signature, Sussex Police
Warnings to residents of advance fee fraud
We've had reports an advanced fee fraud in which suspects phone a resident and claim to be calling from the UK (or British) Government Grant Department. The cold callers claim you have won a "Good Citizen Award" – of around £8,000 – and that the grant can be released for a fee (of around £210). There is no genuine "Good Citizen Award" scheme in the UK that operates by cold calling "winners" and asking for an upfront fee to release a grant. If you receive a call that claims to represent such a scheme, or any caller asks for money up front in return for a prize, it is a scam. End the phone call and do not give out any personal or financial data.
Eastbourne Police working in partnership with the Princes Trust to stop scams Eastbourne Police have worked with the Princes Trust to help with their community project in helping to stop scams against the elderly. The students, aged between 15 to 19, are taking part in a programme called 'Team' to give them future employment skills. In order to complete the 'Community' section they carried out questionnaires, designed awareness leaflets and set up social media accounts in relation to such crimes, which were then given out at a community surgery event.
PCSO Michael Perry said: "This was a great initiative working in partnership with the Princes Trust to highlight the potential dangers experienced by elderly, vulnerable people in Eastbourne. The information was extremely well received and a number of residents took advantage of the advice and reassurance given."
Residents targeted by fake police officers claiming to be investigating a fraud
In the past month we have had several reports of fraudsters attempting to defraud elderly residents by claiming to be police officers or bank officials. The fraudsters either phone or visit the resident claiming they have been a victim of fraud and that their bank cards and PIN are needed for the investigation. A courier is sent to collect the supposedly compromised/old card(s) and these are used to withdraw cash and buy high value goods. In some cases the victims are told not to trust bank employees and to go to their bank and withdraw all of their money.
Microsoft support scam: victims being conned from 'tech support' scammer
Sussex residents continue to be contacted by telephone scammers who claim to be from legitimate companies, such as Talk Talk and Microsoft. They warn victims that there is a problem with their computer, which they need to gain remote access to in order to fix. They then ask for the victim to pay a fee to fix the computer and or prevent it crashing. The fraudsters then have access to your bank account and can withdraw money from your account.
Remember: banks and police will NEVER call and ask you to transfer funds to a new account, NEVER collect your cards from your home, NEVER ask you to buy high value goods and NEVER ask you to hand over cards or money.
Keep your money safe with these tips:
• Check people are who they say they are. Not sure? Don't open the door!
• Never send or give money to people you don't know or trust
• Remember to protect your identity – don't share your personal information with unexpected callers
• Beware of email and computer scams. Treat all emails from unknown senders with suspicion and never click on links within them
• Never share your PIN number or enter your PIN into a telephone
• If in doubt, phone a relative, friend or someone you know personally.
If you suspect someone you know may be vulnerable to fraud, please share this newsletter with them and encourage them to look at the 'Little Book of Scams', available on the following link: http://tinyurl.com/z8khtgh
If you or someone you know is vulnerable and has been a victim of fraud or scams call Sussex Police on 101 or visit www.sussex.police.uk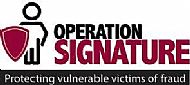 ---
Lewes District Police Update 16th March 2016
Just across our boarder into Wealden District, there have been a number of Burglary and Burglary other than dwelling offences. Although this is not currently occurring on the Lewes district, offenders, especially those responsible for shed and outbuilding breaks, are known to travel considerable distances.
With this in mind, we would like to encourage you to report suspicious vehicles and activity to police in a timely fashion and to find a little time to review your own security.
Here are some tips which may help you to be more secure.
1. Rural Crime prevention tips
http://www.sussex.police.uk/policing-in-sussex/your-community/farm-watch/rural-crime-preventionadvice
2. Home security
http://www.sussex.police.uk/policing-in-sussex/your-community/crime-prevention-advice/homesecurity
If you have any other requirements please check our Website where you will find additional relevant information www.sussex.police.uk
RINGMER
There has been a burglary at an address in Delves Close Ringmer. Offenders have broken in through rear patio doors and searched the house. The residents were
away at the time of the burglary.
Please do read the home security advice provided, there are some simple tips you can choose to adopt in order to protect your home and valuables.
LEWES
Stolen Vehicle
SV55 NVU
Red Ford Focus stolen from Fitzroy Road Lewes
The vehicle was parked on the 11th and missing the following day.
LEWES
Attempted Burglary Dwelling
At 01:00 on the 9th March, a resident in King Henrys Road Lewes was woken by a loud banging noise. The occupant turned on internal lights and saw two figures running past the window. The lock on the entry door was found to have been tampered with. Nobody entered the home. Did you hear or see anything in the early hours of the 10th March in King Henrys Road? Are you a resident in the road and have you experienced anything similar?
We do not believe there is an immediate threat to homes in this location; however, keeping the community informed is important in the prevention of crime.
LEWES
Police were contacted on the morning of Thursday 10th March after the St Peter and St James charity shop was broken into. A door was kicked in and money stolen from a safe within. Police are exploring forensic opportunities, however we would be grateful to hear from anyone who may have heard or seen anything suspicious overnight from the 9th to 10th March.
LEWES
Attempted Burglary OTD
Between 08th and 10th March an attempt was made to get into a garage in Rotten Row Lewes. There is nothing to suggest any attempt was made to gain access to the residential property adjacent the garage.
Nothing was stolen. Please keep an eye open for suspicious activity, vehicles or persons and contact local officers if something feels out of place.
LEWES
On the 12th March between 15:30 and 22:00 a wallet was stolen from a vehicle in Horsfield Road Lewes. The owner is not certain the vehicle was locked. Police are following up further investigations after an attempt was made to use a card form the stolen wallet. Please remember to lock your cars and remove all your valuables.
NEWHAVEN
On Saturday 12th March at 22:30, a group of youths were seen to kick wing mirrors off a number of vehicles in Fort Road Newhaven. One in the group was wearing a grey hooded top and another was wearing a black hooded top. There were 4 or 5 young males in total and 8 vehicles were damaged.
PEACEHAVEN
At 19:00 on the 13th March a resident in Cripps Avenue Peacehaven, alerted by a flood light, found a suspicious male in their garden. The resident chased after the man who quickly disappeared. There was no attempt by the man to get into the home and there is nothing to suggest he intended to commit a criminal act. However, he should not have been in the private garden where he was seen.
Please let us know if you have experienced anything similar in the area?
SEAFORD
A blue metal storage cage at the Cradle Hill industrial estate, used for storing electrical items and flat screen TVs has been broken into sometime between 20:00 and 21:00 on the 8th March. It is thought £15000 worth of items have been taken. Barbed wire was cut on the perimeter of the site and the padlock was then cut off.
CCTV Images are being reviewed and enquiries are ongoing. If you heard or saw anything suspicious overnight please contact police and report. Additionally if
you are offered any electrical products at "too good to be true" prices, please also report to police.
SUSPICIOUS VEHICLE
White Fiat Van
0V51 XZC
This has been seen recently on several occasions in circumstances which were thought to be highly suspicious. The vehicle was reported to have entered the same private property in Wilmington three times on one day having been asked to leave on the first occasion. The occupants were enquiring about storage to rent.
The same vehicle was reported in Seaford after the occupants approached the home of an elderly resident In Hawth Hill, and convinced her to have building works done.
Police were alerted by Lloyd's staff when the resident attempted to withdraw a large sum of money for these "door to door trades' people".
No offences can be confirmed at this time, however if you see this vehicle in suspicious circumstances, please contact local officers so that we may make our own enquiries with the occupants.
Additionally Police advise that you avoid entering into any works contracts with door to door sales persons, instead, we recommend you use approved traders through Check a Trade or Trading Standards.
---
Lewes District Police Update 9th March 2016
LEWES BURGLARY DWELLING
On 06th March police were alerted to a burglary in Rotten Row Lewes.
The home has not been occupied for a little while and therefore there is no specific time scale for the offence.
Entry was forced and there had been a search inside. Our enquiries are ongoing.
If you do have any information about this incident, please get in touch with police.
We suggest that you should not identify times and dates when you may be away, on social media sites and make sure your home is adequately secured.
Consider putting you lights on timers, and asking a neighbour or friend to keep an eye on your home in your absence.
LEWES, DAMAGE
Between 17:15 on 03rd March and 08:30 on the 4th, some considerable damage was caused to the ATM machines outside Lloyds in the Cliff Precinct Lewes. No access was gained, however significant force has been used to smash screens and damage the keypads. Did you see this happening or do you know who was responsible?
GLYNDE BURGLARY DWELLING
On 02nd March between 12:00 and 16:00 there was a burglary at a home in Glynde.
A rear window had been broken and an untidy search made inside. Small electrical items are known to have been stolen including an Ipad mini. Have you seen or been offered anything like this for sale on local selling pages or in person?
We recommend that electrical items be property marked and added to the op immobilise website and items of value be photographed for identity purposes.
http://www.sussex.police.uk/help-centre/ask-us/theft-and-burglary/what-is-immobilise-and-how-can-it-help-me-protect-my-things
COOKSBRIDGE OTD
Between 17:00 on 01st and 0800 on the 02nd March, a shed was broken into at Downland Game Farm, Beechwood Lane, Cooksbridge. The lock had been cut off.
There are some useful crime prevention advice within the link relating to theft and burglary.
http://www.sussex.police.uk/help-centre/ask-us/theft-and-burglary
DITCHLING OTD
On 07th March police were alerted to a burglary OTD in Folders Lane Ditchling. This is thought to have occurred between 18:15 on the 6th and 08:30 07th March. The window on the front of the building was pulled out and tools and equipment has been stolen from within.
A laptop has also been stolen. This is thought to be a high value theft.
Did you see or hear anything? Do you know who is responsible?
Have you secured your own possessions in any sheds or outbuildings?.
DITCHLING OTD
Ditchling sports pavilion at the East End Lane Recreational Ground has been broken into. The door was smashed to gain entry. Expensive damage has been caused but nothing seems to have been taken and no forensics were left at the scene.
Please let us know if you have any information about this damage or those responsible.
Sussex Farm Watch Bulletin 31 December 2015
Sussex Farm Watch Co-ordinator's Message
This week we have had a fairly high number of animals loose on the highway including 18 sheep, 13 horses and one cow.
May I wish each and every one of you a Prosperous New Year
Phillip
Crime and Incident Update
If you have seen or heard anything related to these incidents please contact Sussex Police online at
www.sussex.police.uk, via email 101@sussex.pnn.police.uk, by calling 101 or contact Crime Stoppers anonymously on 0800 555 111.
Lewes
0908 22/12/2015 Remains of deer have been found in a field off Brighton Road, it is suspected that it was the result of poaching.
0909 24/12/2015 A barn in Ringmer has been broken into several times recently.
0558 25/12/2015 A male with three loose dogs was seen to allow them to enter a field in Chyngton Lane, Seaford where sheep are kept. The dogs attacked two sheep by pulling them down; they then chased others.
0590 21/12/2015 The door to a steel shipping container was forced on a farm in Selsfield Road, West Hoathly but no entry was gained.
1352 22/12/2015 Workshops on a farm in Isaacs Lane, Haywards Heath were broken into and various items were stolen, these include a Fairfax Compacter red with black bits, an orange Stihl Chainsaw, an angle saw with table and a tyre compressor pipe.
003 24/12/2015 A barn on a farm in in West Hoathly has been broken into and a green Kawasaki 360 Quad bike was stolen, serial numbers are not available at this time.
Mid Sussex
0696 27/12/2015 Two large chicken houses and 15 chickens have been stolen overnight from Cuttinglye Lane, Crawley Down.
---

Sussex Farm Watch Bulletin 19 November 2015
Sussex Farm Watch Co-ordinator's Message
As always there have been a number of animals loose on the highway this week including six horses, two cows – one of which was found of the railway track. Due to the very wet conditions it is advisable that owners of livestock check that fences have not been pushed over, particularly those next to roads and railways.
Due to the high security risk that is in place across Europe farmers are reminded to ensure that all Fertilizers are kept in secure locked premises, if you suspect an attempted break in please call Sussex Police.
Kind Regards
Phillip
News, Advice and Appeals
Wildlife Crime
Sussex has large expanses of rural areas. We have developed strong links to these communities as a way of ensuring the issues surrounding wildlife crime are not overlooked. Within Sussex we have expert Wildlife Crime Officers who are regular police officers or PCSO's who take on the role in addition to their main duties. These officers have a strong interest in wildlife.
They investigate a wide range of complex wildlife offences and provide expert wildlife advice and support to police officers across Sussex.
What is wildlife crime?
Examples of wildlife crime include:
• Hare Coursing • Deer poaching • Fish poaching • Badger persecution – including baiting, snaring, shooting, and disturbance of setts • Bat persecution • Egg theft / collection • Bird of Prey persecution – through poisoning, trapping, shooting, disturbance of nest and/or theft of chicks
• The trade in ivory, tortoises, rhino horn and other protected species covered by CITES (Convention on International Trade in Endangered Species) including caviar, Traditional Chinese Medicines, and orchids)
• Non registration of certain birds and animals that require licensing through DEFRA/Animal Health if kept in captivity or sold
Report it
If you are concerned about instances of wildlife crime in your area - for example, poaching or trading in endangered species - or have any information that may be helpful to our Wildlife Crime Officers, please tell us by calling 101 or email your local area officer
---
Sussex Farm Watch Bulletin 05 November 2015
Sussex Farm Watch Co-ordinator's Message
There have been reports of a number of animals loose on the highway again this week, including 11 horses, two sheep and one pig. Please be reminded to check gates, fencing and hedgerows.
I would like to apologise for last week's message which had some information missing due to a technical fault when creating the document. This has now been resolved and all relevant information is included in this week's bulletin.
General Information
The coming weeks will see the evenings drawing in, particularly now that the clocks have gone back. This serves as a timely reminder to review your security in terms of where you keep your animals and or equipment. The cover of darkness often provides opportunities for criminals to go about their business unobserved. Below are some tips to help.
Be aware of strangers around the yard, buildings or fields and politely challenge them if you feel safe to do so. We rely heavily on members of the farming and equine community to remain alert and to tell us of anything that appears to be suspicious. Being informed helps us to build a picture of what is going on in the local communities.
Any information, regardless of how insignificant it may seem to you, helps us to complete the jigsaw. If you need to call us, please ensure that you know the address and postcode so we can find you easily. Are there any landmarks that may help us get to your location? Keep a pen and paper in the stables/outbuildings and in your vehicle so you can make a note of anything rather than relying on your memory.
When possible, use coach bolts to secure fixings. These are like screws but they are tightened from the inside of the building and have flat heads. Quite often you can have the best padlock but it is securing a latch that has been screwed in. This means that someone with a screwdriver could just undo the screws to gain access. Check around the hinges to ensure that there is no rotting wood. Check doors are sturdy and secure, and cannot easily be forced.
Horse theft is extremely rare. Horse thieves can be deterred if your animal is easily identifiable, and there are several different brands of marking; freeze marking, micro chipping, hoof branding and DNA analysis. If you do this, it's also worthwhile advertising the fact your horse is marked on the outside of the stable. Please ensure that you have clear photographs (from all angles and particular markings) of your horse in Winter and Summer. Ensure that your horse passport is up to date and accurate.
Keep hedges well maintained and minimise places where access can be gained. Thieves will often try to access via adjoining land using 4x4 vehicles. Items stolen can be subsequently hidden in bushes and hedges to be later collected. Make sure you have good visibility around your fields and yards. Make a note of who has keys and keep any access points well maintained. If you are going to be in the field or yard for a while, don't leave the key in padlock. Always take it with you.
Please ensure that your tack is suitably marked. Rugs can be marked with your postcode written in permanent ink or painted onto the side. This will act as a deterrent to a thief, and will also make your property identifiable should it be stolen.
Kind Regards
Phillip
---
News, Advice and Appeals
How much would you pay for policing in Sussex?
One of the responsibilities of Police and Crime Commissioners is to set the budget for policing. A small proportion of the cost of policing is paid from your council tax with the rest coming directly from Government. This local council tax element is called the precept, which I set each year following close consultation with local taxpayers.
As your PCC in Sussex, I have to consider the Chief Constable's operational policing plan and determine whether the amount you pay for policing locally should stay the same or rise to allow investment in key areas.
I have launched a public consultation to find out if local taxpayers would be prepared to pay an additional amount next year, per household, to enable me to invest directly in two areas that the Chief Constable has highlighted as priorities for policing:
1. Protecting children and vulnerable adults in Sussex from exploitation and abuse.
2. Digital forensic capability to retrieve, analyse and store information held on computers, mobiles and tablets.
You can find out more about these investment proposals and have your say in the public consultation
here: https://www.sussex-pcc.gov.uk/public-consultations/
I hope you will complete the short online survey and encourage your networks to have their say in the consultation as well. Your feedback is important to me - thank you for taking the time to tell me what you think. The consultation will remain open until Friday 8 January 2016. Once it has closed I am duty-bound to inform the Sussex Police and Crime Panel of my considerations. This decision will be reviewed by the Panel on Friday 22 January 2016.
Best wishes
Katy Bourne
Sussex Police & Crime Commissioner
---
Crime and Incident Update
If you have seen or heard anything related to these incidents please contact Sussex Police online at
www.sussex.police.uk, via email 101@sussex.pnn.police.uk, by calling 101 or contact Crime Stoppers anonymously on 0800 555 111.
Monday 26 October to Sunday 01 November 2015
Lewes 0932 01/11/2015 Whilst out riding his horse in Hundred Acre Lane, Wivelsfield Green two Rhodesian Ridgeback dogs attacked the horse drawing blood, please be aware.
Farm Watch Officers
Please contact your local Farm Watch Liaison Officers for any general enquiries or questions.
PC Pete Hall peter.hall@sussex.pnn.police.uk
PCSO Edward Hall edward.hall@sussex.pnn.police.uk
---
Sussex Farm Watch, Bulletin 22 October 2015
Sussex Farm Watch Co-ordinator's Message
Loose animals on the highways this week include 26 sheep and one horse.
There are still many reports coming in of suspicious vehicles driving in and out of farms and large houses. Please remember to shut gates to deter this happening.
Kind Regards,
Phillip
News, Advice and Appeals
Sussex Police launches three week anti-burglary campaign
Leave a light on and stay secure are key messages from Sussex Police as the force launches a three-week burglary crime prevention campaign today (Wednesday 21 October).
The aim is to highlight the devastating impact that burglary can have on victims by communicating messages, tips and even victims' own stories to ensure everyone is doing their bit to help prevent break-ins.
The campaign is launching under the banner of Operation Magpie, Sussex Police's initiative to tackle home breakins, or "burglary dwellings", across the county.
It is hoped that this type of engagement may help reduce burglary at a time of year when traditionally there is an increase in such crime.
The campaign is part of a wider comm.itment from Sussex Police to relentlessly pursue and catch criminals while keeping people safe.
The year to end of September 2014 saw an average of 275 burglary dwellings per month across Sussex, and to end of September 2015 an average of 259 burglary dwellings per month - an average reduction of 16 per month, or minus 5.8 per cent year on year. The campaign will run across Sussex until 10 November and includes spreading the word through both social and traditional media to promote good news stories and highlight home security advice.
Police Community Support Officers and some of our partners and volunteers, including Neighbourhood Watch, will also be organising targeted activities in hotspots, talking to residents and handing out leaflets. In addition, Sussex Police is keen to send specific messages to more vulnerable members in the community to ensure they know about other forms of burglary that may affect them, including distraction burglary.
Burglary can take different forms and home security actions will go a long way to reduce the chances of becoming a victim, but being vigilant about who you let into your home is just as important.
Detective Chief Inspector Tanya Jones, campaign leader for Operation Magpie, said: "We know that there is an increase in home burglarie s once the clocks go back and the evenings become darker. "Unlit properties can easily suggest that no one is home, and of course many of us are out at this time of year celebrating bonfire activities.
"Evidence suggests that campaigns like this have helped to continue a year-on-year reduction in burglaries. It's important to continue the good work and ensure both police and residents are doing all they can to deter criminals.
"Burglary can have a devastating effect on how people feel in their own homes as well as on local communities and we encourage everyone to share these important messages with family, friends and neighbours and to take steps to reduce the chances of becoming a victim of this type of crime. "Raising awareness of the impact burglary can have through victims' stories is one way we hope people will stop and think and take a few extra home security steps, as we all think it will not happen to us. "By deterring potential burglars the aim is that it will reduce the chances of becoming a victim of crime. Prevention is always better than cure."
You can get involved and reduce the chance of your house being targeted by following some simple crime prevention steps. Please look at the home security checklist on http://www.sussex.police.uk/burglary
You will also find victims' stories on the Sussex Police website. Follow Sussex Police on Facebook and Twitter and support with #leavealighton and #staysecure.
You can protect your belongings by registering them on www.immobilise.com It's free and takes just a few minutes, and if your valuables are stolen it will allow you to tell the police, your insurer and second-hand traders to assist in recovering your property and catch the thief.
Sussex Police works closely with many second-hand traders following the launch of their "Too good to be true campaign" at the beginning of this year by creating a simple checklist for traders to follow when goods are presented for onward sale.
Sussex Police also launched a recovered property site in August to help reunite stolen items with their rightful owners. You can find this on flickr by searching suspolproperty.
You can also stay informed about what's going on in your own locality by signing up for community messaging - again on the Sussex Police website. And you can sign up to your local Neighbourhood Watch Scheme. Even youngsters can get involved with Junior Neighbourhood Watch across Sussex.
Sussex Police & Crime Commissioner, Katie Bourne, said: "I'm pleased that the number of burglary dwellings across the county has reduced. The impact of a burglary can have a profound effect on victims and they may often describe it as a robbery or an invasion of their home; terms that actually relate to acts on a person not a property. "This reinforces the deep, personal impact that a burglary has on someone who experiences it. We all have a part to play to help keep Sussex safe and as the nights draw in I urge residents to follow police advice and keep their property secure so that they are not a target for burglars."
Crime and Incident Update
If you have seen or heard anything related to these incidents please contact Sussex Police online at www.sussex.police.uk, via email 101@sussex.pnn.police.uk, by calling 101 or contact Crime Stoppers anonymously on 0800 555 111.
Lewes
1065 17/10/2015 Two shepherds crooks have gone missing from a farm in Ringmer, presumed stolen, they are described as metal with wooden handles and being quite traditional.
0644 18/10/2015 Reports were received of hare coursing taking place on land in Rodmell. A white van was spotted parked up in the vicinity.
An attempt has been made to steal a trailer form G Jupp and sons in Ditchling.
The fence was dismantled and the trailer taken half way across an adjacent field where it was found by the owner.
If you heard or saw anything in the vicinity of G Jupp and sons and Spatham lane between 20:00 on Monday 19th and 06:00 on Tuesday 20th October, please let police know on cad reference number 267 20.10.2015
Please consider the security of any trailers or similar assets you may own. Wheel clamps are fairly effective but you may also consider storing them In a secure building or behind secure fencing and using alarms and security lighting as deterrents. Vehicles can also be fitted with tracking devices if you contact the manufacturer.
Mid Sussex
0499 12/10/2015 Various agricultural vehicles including a tractor and three diggers that were parked up on a farm in School Lane, Danehill had approximately 400 litres of red diesel syphoned from them over night.
1224 13/10/2015 A unit on a farm in Malthouse Lane, Hurstpierpoint has been broken into and approximately £10,000 worth of tools have been stolen.
---
There are currently a couple of topics to which we would like to draw your attention.
The first is the ongoing issue of vehicle crime.
On the Lewes district currently, we are receiving reports of two different types of offence, the first being theft from vehicles left insecure. Primarily we have seen this occurring on our costal boarder with Birghton, in the Telscombe Cliffs and East Saltdean areas. Small groups of as yet unidentified offenders have been trying car doors to find those left unlocked and then helping themselves to your valuables left inside.
Think, lock it or lose it.
The second offence type is vehicles with personal items left inside, being broken into at local beauty spots.
Please do bear in mind that there are those criminals out there who are just waiting for the opportunity to relieve you of your valuables. They may be watching from another parked car as you conceal your handbag under the front seats or put your wallet in the glove box.
They could be the inconspicuous bystander looking at a map or sitting on a bench nearby.
Don't give them an easy ride. Don't leave your valuables in your car.
We would also like to ask for your help in spreading the message about scam awareness as widely as you can.
The information below will give you more of an idea about the types of scam out there and how to avoid being taken in.
Please do read and share this advice and help us to reduce the number of elderly, vulnerable people being duped by these confidence tricksters.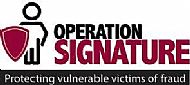 What is Operation Signature?
Operation Signature is the force campaign to identify and support vulnerable victims of fraud within Sussex. Increasingly fraud is becoming more complex and deceptive, much of which is targeted at vulnerable and elderly people.
03/06/2015 Latest News: scammers are currently using new method to target elderly or vulnerable people: Victims are being called by a person who says they are calling on behalf of an internet/telephone provider and convincing them they have suspicious activity on their internet line. They then tell them if they pay a certain amount (£99 for example) they will rectify the 'issue.' The victim is then instructed to go to a particular website which enables the scammer to access their computer remotely and look at personal information such as online banking details. By accessing the victims online bank account they transfer funds from one account to another (from a business account to a personal account, for example) to make it look like there has been an overpayment. The victim sees the higher balance, has no cause to check the balance of their other account and so withdraws their own money for the scammers believing it to be an overpayment.
Please do not share any information to anyone you cannot verify the identity of, if you are unsure put the phone down and call the internet company on a verified number, not one provided to you in the phone call.**
Did you know?
- 1 in 5 people fall victim to scams every year
- Nearly 50% of all adults have been targeted by a scam
Technology is enabling fraudsters to carry out attacks quicker and employ more complex behaviours to remain undetected.
What kinds of scams are there?
Common fraud types are:
- Mail scams: con artists use fake lotteries and prize draws, get-rich-quick schemes, bogus health cures and pyramid selling to get money from their victims
- Investment scams: the victim is offered investment opportunities in land, fine wines, share sales or carbon credits which have little or no value
- Romance scams: the scammer meets someone on a dating site and gains their trust. They tell their victim they need money for a family emergency or flights over to see them
- Courier scams: fraudsters call and trick the victim into handing cards and PIN numbers to a courier on their doorstep
- Fraud recovery scam: when fraudsters approach the victim again under a different guise, such as Trading Standards or Court officials, demanding money up front in order to finance court action to recoup some of the losses from the original crime.
There are many more types of fraud. Please see the Action Fraud website for more details.
Key things to remember:
- Never send or give money to anyone you don't know or trust
- Check people are who they say they are
- Don't share your personal information
- Make decisions in your own time
- If in doubt phone a relative or a friend
Trust no-one who cold calls you about your bank account or a problem with your computer. Under no circumstances would the bank or police request a card PIN or security details over the telephone or arrange collection of bank cards from a home address.
What do I do if I think someone I know has been a victim of fraud?
If you, or someone you know might be vulnerable to fraud/scams, please contact Sussex Police on 101 or email 101@sussex.pnn.police.uk
Scam - the secret crime DVD
Sussex Police is working closely with the Home Office in the protection of vulnerable fraud victims. As part of this, the force created a new awareness film which is now available on our website or on the link below.
https://www.youtube.com/watch?v=0ZDpw_IDSps&feature=youtu.be
The video is currently being delivered to a variety of audiences such as banks, agencies and community groups with the purpose of raising awareness about the issue and encouraging them to work with the force to help prevent the vulnerable from becoming victims. It can also provide a useful insight into these crimes for victims and family members.

There are a number of products which accompany the DVD such as stickers, leaflets and posters, some of which are tailored to specific audiences. Recently there has been particular focus on delivering training and awareness in banks such as Santander, Barclays and NatWest. Officers have gone into branches to speak to staff and customers about keeping vigilant.
How did this all begin?
Op Signature began as the Sussex Police response to scam mail but quickly it became apparent that those being targeted by scam mail were also vulnerable to other scams. The prevention methods we used to protect victims from scam mail were the same whether they were being targeted by mail, telephone or email.
The remit of this operation has therefore been extended to include other forms of fraud including investment, dating, inheritance, courier, doorstep, computer and telephone scams - any fraud type where the victim is vulnerable. Therefore, Op Edisto (courier fraud) now falls within the Op Signature remit.
What is being done about the investigation of these crimes?
The Op Signature work focuses on the protection of the vulnerable members of our communities in Sussex, preventing them from becoming victims of such fraud and subject to further financial loss.
We have a process for recognising victims of scam mail as victims of crime and providing preventative measures to support and protect them from further targeting, such as helping them to change their phone number to an ex-directory number, contacting family to suggest Power of Attorney, mail re-direction etc. We also aim to raise awareness of the issue within our communities through our Neighbourhood Policing Teams and the media.
Wherever there are local leads within the UK, investigations are carried out by CID. Where leads are from overseas, these are referred to the National Fraud Office and Action Fraud to take European and international action and intelligence gathering.
Useful resources
The Little Book of Big Scams is a very useful booklet that explains the ways in which you can help protect yourself from fraud and covers a number of different types of scams.
You can also visit the Action Fraud website.
For further advice and information from Sussex Police please email bernadette.lawrie@sussex.pnn.police.uk
As always we encourage you to let us know about suspicious vehicles, people or activity in your area.
Twitter updates are available @lewespolice and updates are also available on our various facebook pages, Lewes Police, Newhaven and Peacehaven Police and Seaford police although these accounts are not manned 24 hours.
You can ask us questions and give feed back on any of these social media accounts but please do not use them to report crime.
---
Sussex Police - Lewes District Neighbourhood Policing Team
December 2014 East Sussex
FRAUD ALERT
If you have been contacted by telephone from someone claiming to be a Police Officer, please read this notice:
The Police will NEVER contact you by telephone and ask you to disclose any details of your bank account.
The Police will NEVER ask you to send them your bank Cards.
The Police will NEVER ask you to key your PIN numbers into the telephone keypad.
The Police will NEVER ask you to transfer your funds between your accounts.
The Police will NEVER ask you to pay cash into an account 'for safe keeping' or in the interests of an investigation into fraudulent activity within a bank.
If you have been asked to do any of the above, please inform your bank and the Police at your local Police Station.
We URGE you not to continue with the transaction that you have been asked to complete until we can confirm that the caller is genuine.
Please do share this information with friends and family.
This message was sent by Lizzie Ryan
Lewes District NPT, Public Engagement Officer
---
Sussex Police Precept 2015/16 – Public Consultation
Email from Katy Bourne
As PCC I have a statutory obligation to set the police precept - the amount Sussex residents pay for policing in their Council Tax.
I need to consider the case to secure additional funding for policing in Sussex next year and I welcome residents' views on whether or not I should seek a precept increase in 2015/16.
In my first year in office I fulfilled my election pledge to freeze the precept meaning residents paid the same amount for policing in Sussex for four years.
Last year local taxpayers told me they would support a precept increase of 3.6%, which equates to an additional £4.95 per year per household (for a Band D property). This investment was required to fund additional resources to enable Sussex Police to respond to emerging crime threats including serious sexual offending and cybercrime as well as increasing the efficiency of officers on the frontline.
67% of those who responded to the consultation supported an increase in the precept. The Police and Crime Panel – who hold the important role of scrutinising my decisions – also endorsed the proposed rise. However, due to a limit, set nationally, on the amount that the precept could rise before triggering a costly referendum, I was only able to increase the precept in Sussex by 1.95% (£2.70 per household per year).
Despite this, good progress has been achieved in those areas of operational policing that required additional investment. However, the Chief Constable has set out a business case for additional funds in 2015/16 to meet the shortfall from last year.
A precept increase in 2015/16 of up to 1.98% would provide additional funding in order to deliver the operational investments Sussex Police need to make. In particular, investigating serious sexual offences and protecting the most vulnerable victims, especially children, remains a key priority for me and the Chief Constable.
This means that a local household living in a Band D property would pay an extra £2.79 per year for policing. However, at £143.91 per year, Sussex would still have the 4th lowest precept level in England and Wales.
As a voice for local people on policing and crime it's very important that I know if Sussex residents are willing to pay more towards policing in their county.
The online survey can be accessed on the following link: http://www.sussex-pcc.gov.uk/public-consultations/. Printed copies are also available from my office. Telephone: 01273 481561 or email: spcc@sussex-pcc.gov.uk.
The consultation will close on Friday 9 January and the results will help inform a decision in January 2015, which will be reviewed by the Police & Crime Panel.
Thank you for taking the time to tell me what you think.
Katy Bourne, Sussex Police & Crime Commissioner
---